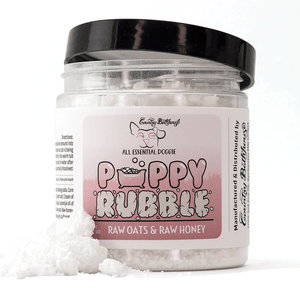 All Essential Doggie - Puppy Rubble - Oats and Honey
Regular price $12.00 $12.00 Sale
8 oz. - Enough for three to four doggie baths | Puppy Rubble makes fur soft and clean, and is similar to our Bubble Rubble but formulated especially for your family pet. Made with all-natural ingredients and pure essential oils, our All Essential Doggie line is safe, wholesome, and effective for your four-legged friends. 
Oats and Honey smells like a buttery blend of oats, honey, milk, and vanilla. Sprinkle into the water stream to create the best bubble experience. Our screw top container is made from recyclable BPA free plastic.
Ingredients: Baking soda, citric acid, Epsom salt, Aqua, Essential oils (oat and honey), Sodium lauryl sulfoacetate.